Utopian Design – Smart Walking Stick
Due to the global trend of aging population, countries has been moving to " Aged Societies". According to Financial Times UK, currently only German, Italy, and Japan are defined as Hyper-aged Societies ( 21% or more of the population are 65 years or older). However, 13 countries are estimated to become hyper-aged societies in 2020, and 34 countries in 2030.
Among 112 countries in the world, about 60% of countries will become aged societies; especially some Asian countries are aging in a faster speed.It indicates that in the next few years, the demand of aged market will keep rising. Among numerous elder products, walking stick is a headache necessity. It's meant to be a support for walking. Yet with inconvenience of the product and resistance from the user, it could also be a block.

The walking stick design from DEM is to make it become a intimate, fashion and useful product for elders. While the society is aging, IOT on the other hand is a rising trend of technology application. The smart walking stick is not only a tech product, but also a simply and convenient necessity from the aspect of elders.
The smart walking stick is presenting in a fashion and simple appearance. Furthermore, it copes with two major demands – living and moving. It's functioned with GPS guidance, emergency communication, lighting, weather forecasting and RFID key system of door lock. The most important feature is the modularized hand bar design. Users can switch up to 3 gripping modules with different circumstances.
Migratory birds migrate with season varies. They have born to have sharp and accurate sense of direction. With light feather and strong bodies, their migrations can range hundred to thousand miles. DEM smart walking stick is inspired from migratory birds- light weight but solid; smart and reliable, providing users a simple, fashion and intimate experience of walking stick.
1) A simple and fashion model inspired from migratory birds with plain coloring. The walking stick is no longer a headache necessity, but an intimate chamberlain. It's also a commodity which shows user's identity.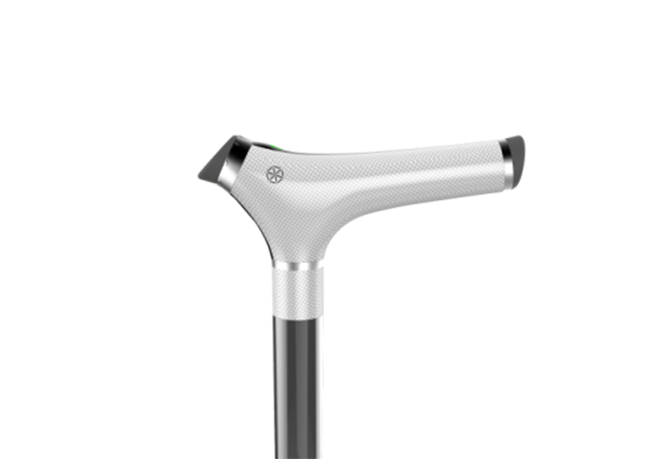 2) Modularized design: Users can switch gripping modules with different circumstances, including, A) T-hand bar, B) Orb gripping, and C) Standing support.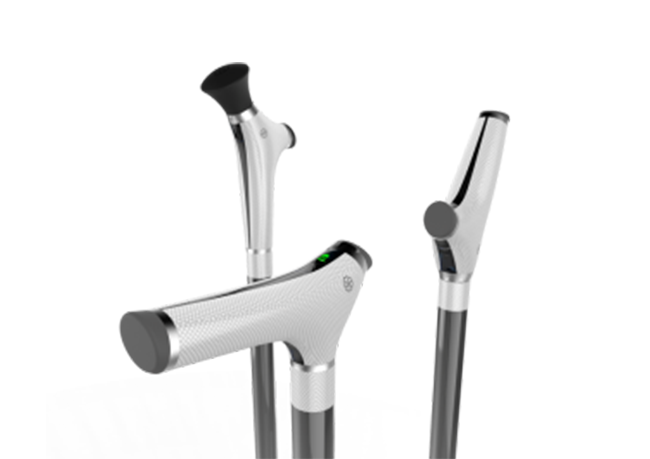 3) Using carbon fiber composite as major material, the lightness and solidity can easily meet the needs of disabilities.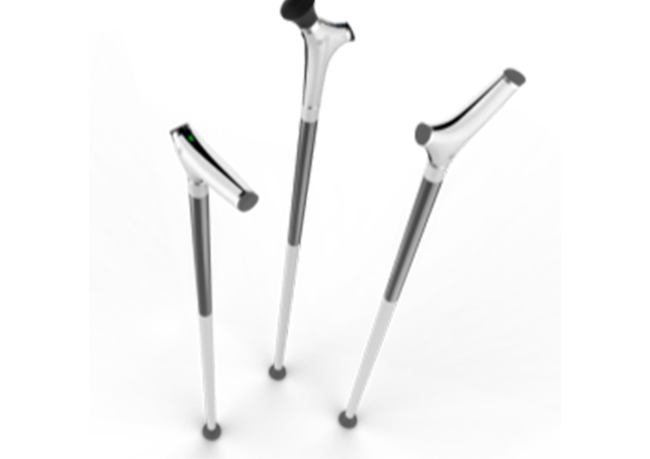 4) Coping with the trend of IOT, smart technology is adopted. Basic functions include weather forecasting, GPS audio positioning and direction guiding, emergency calls and lighting signs function. The operation and interface are simple. Starts with fingerprint confirmation, turn the knob and press confirm button, the functions or instructions will be initiated.
5) To prevent losing and safety concern, fingerprint authentication is included and the system is synchronized with smart phones.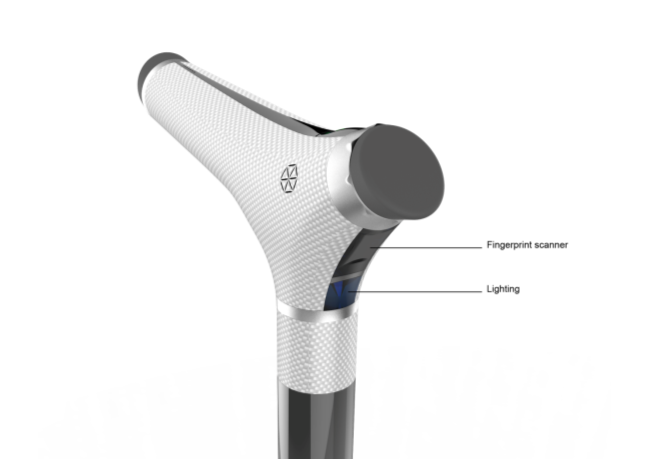 6) Concerning elders' living convenience, a RFID sensing door lock will be paired so that the elders won't be bothered searching keys.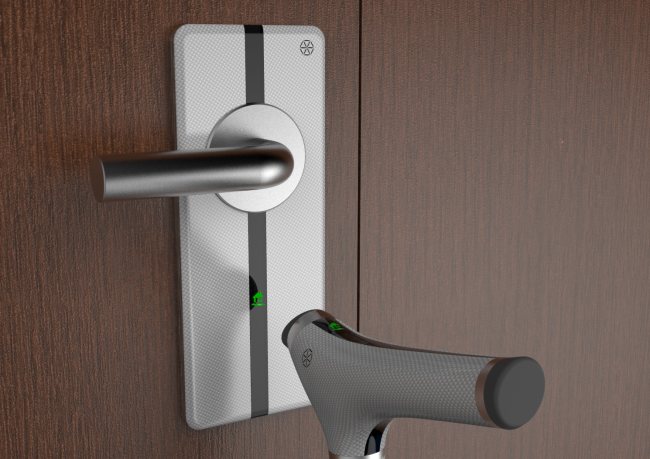 7) A big and slip preventing bottom is designed in sphere with suction pad. Traction and safety are increased for different kinds of road surfaces.